A Cup of Kindness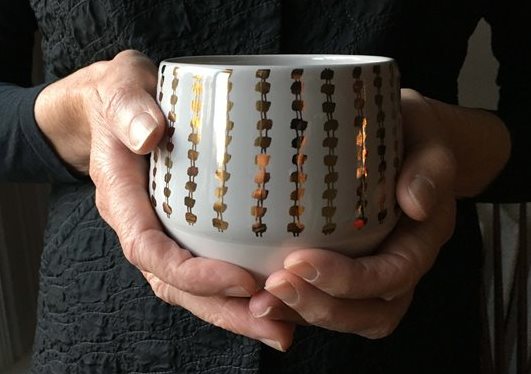 The other day I was sitting at my desk when a woman I work with, my supervisor, came up to me with a gift bag and said, "This is for you." I was surprised, because it wasn't a special day that I knew of. She continued with a smile, "Happy first month on staff." (I had been there for a year as a "wintern".) Inside the bag was a cup flecked with gold and a tin of tea, a nod to the tea lover in me. This small, completely unexpected gesture touched me deeply and made me feel inordinately happy. For the first time in my 50 plus years of working, I felt something new: I can rest in the presence of another.
The gesture, in the midst of so many revelations about inappropriate workplace behavior, made me think about previous work environments and how inhospitable they were in comparison. Though I was never sexually harassed at work, I did experience a painful undercurrent of hostility, anger, and exploitation taken for granted in many offices.
I've worked in the publishing and entertainment industries in New York and Los Angeles, where encounters were often laced with a sense of avariciousness, a "what can you do for me?" assessment. With a combination of intelligence, looks, and an upbeat attitude, you might make the grade. For women, there was a standard that inhibited individuality and positively deplored diversity.
Hostility sometimes erupted into a brawl at New York Magazine, where I worked after it became an independent publication in 1977. Once, during an argument about the age of a kitten I'd brought in to be staff pet, one of the male editors got so angry that he slapped me in the face. I turned to him and said, "You probably expect me to slap you back now (which had happened with another female staffer), but I won't dignify you with that response." I walked away, and we remained enemies, but he never experienced any repercussion. It should be noted that the editor-in-chief at the time, Clay Felker, was himself a volatile (and charming) individual who once came into the office with a bloody nose after getting into a fist fight with a cabbie who had dropped him off. Such was life in the seventies in NYC!
It's only now, as light is being shed on the routine negative treatment of women in the workplace, that I am able to appreciate what years of self-preservation have done to me. When people were hostile to me, I had to be hostile in return. I hardened my heart. That affected my relationship with everyone; I have difficulty feeling close to anyone. I've been working on it for the past few years in my "retirement". This moment in our history is helping me too.
The kindness demonstrated by my new colleague has me looking for ways to be kind in return. A friend says people are afraid to be kind at work, because they will be seen as "weak" or ineffective. However, one of my early mentors said our purpose was to find the right use of will. How do we choose to use our powers? Shedding light on injustice is one very fine way. The rapid-fire response to harassment is not a political mandate, but a change of consciousness. This means it is evolutionary in nature, which is very heartening. because evolution is bigger than social institutions.
I took my gift into the office kitchen, steeped some tea and poured it into my new cup. I wrapped my fingers around its gentle warmth. It felt good. A sip was followed by a swallow. My shoulders relaxed, I drank to the luck of finding my current workplace and co-workers. And to the changes our country is going through. Despite the pain, there is also healing. This is the way to lead the world, into a new era of workplace awareness, where kindness can be appreciated as a vital part of everyday life.
Comments
| | |
| --- | --- |
| Catherine Parker | Such a lovely story. I'm glad you have found such a place. Cxox |